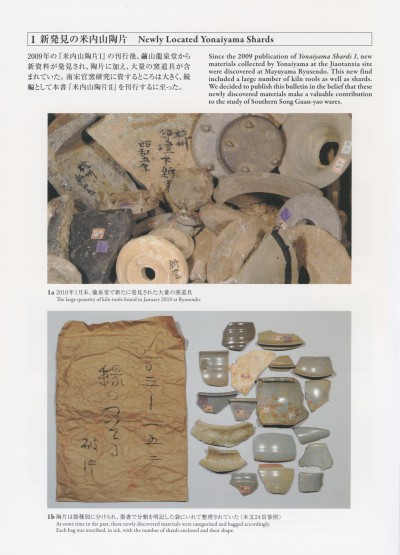 Vol.4  Yonaiyama ShardsⅡ (2011)
This is the second volume of Yonaiyama Shards published in 2009. After publishing it, more shards and a considerable number of kiln tools have been discovered. Given the Association's ongoing desire for these materials to be of immediate use to scholars in the field, we are delighted to announce the publishing of thesse newly found materials as Yoniayama ShardsⅡ.
138 pages, covering all Yonaiyama shards by 32 color plates and all kiln tools by 8 monochrome plates.
Contents
'The Current State of the Study of Southern Song Guan-yao' Atsushi Imai
'The Impact of the Yonaiyama Shards on the Study of Southern Song Guan-yao' Sarah Sato
'Report on the Kiln Tools Collected by Yonaiyama at Jiaotanxia [Summary]' Hirotsugu Sekiguchi
Plates and Lisf of Yonaiyama Shards (Jiaotanxia)
Scale Drawings